(continued from page 1)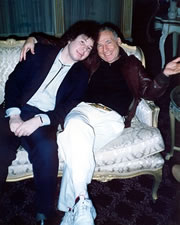 After "Sledge Hammer!" debuted as a much-lauded TV series… none other than his idol, Mel Brooks, tapped Spencer to collaborate on a short-lived NBC sitcom entitled "The Nutt House."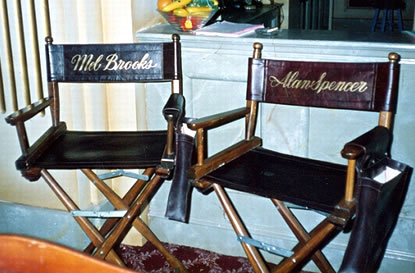 Reviewing the show, Washington Post critic Tom Shales referred to Brooks and Spencer as "two of the country's nobler madcaps."
Alan followed this with his feature film directorial debut, "Hexed," a low budget comedy which he also wrote.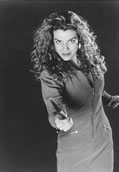 The movie starred the exemplary Claudia Christian as a homicidal fashion model; with a story that explored the stress murder can put on a relationship.
Returning to television, Alan wrote and produced a science fiction comedy called "Galaxy Beat" for CBS.

Starring Gregory Harrison and Tracy Scoggins as "Galactic Peacekeepers," the wild half hour pilot possessed a satirical tone similar to "Sledge Hammer!"
Despite being christened "uproarious," timid CBS executives decided against scheduling "Galaxy Beat" as a series.
The project was deemed "too different" from the network's standard fare at the time... like "The Nanny," a sitcom designed for parents trying to wean their kids off watching television.

Demonstrating versatility, Spencer wrote and produced a dramatic two-hour science fiction pilot, also for CBS, entitled "The Tomorrow Man" starring Julian Sands and Giancarlo Esposito.
Unfortunately, the CBS regime that ordered "The Tomorrow Man" was fired before production was completed. The new management reacted with disappointment that Spencer hadn't crafted a wild comedy.
So far, "The Tomorrow Man" has only aired to positive response in Europe. It's available on video outside the U.S.
As a lark, Alan did a cameo in the well-reviewed indie flick "Free Enterprise," a "Swingers" style romantic comedy about "Star Trek" fans whose lives are altered after meeting their idol, William Shatner, who spoofs himself with great aplomb.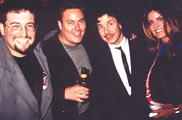 Mark Altman, Robert Meyer Burnett, Alan Spencer & Tracy Scoggins at the
premiere of "Free Enterprise.
The film was co written by Alan's friends Mark Altman and Robert Meyer Burnett, who also produced and directed, respectively.