(continued from page 2)
Playing a deranged partygoer trying to pick up an ingénue, Spencer improvised all his own dialogue.

Alan's other on screen appearances have included "The E! True Hollywood Story" about his late friend Andy Kaufman, as well as TV Land's cable documentary on "Get Smart!"

Over the years, Alan Spencer has had the unique distinction of working with, as well as befriending, many of his childhood heroes.

Besides the aforementioned Mel Brooks, the list includes Don Adams and Anthony Perkins, for whom Spencer wrote and produced an innovative pilot entitled "The Ghost Writer.


Of recent, Alan has worked as a behind the scenes "script doctor" on feature films... and remains highly sought after for his ability to "punch up" dialogue and increase a comedy's laugh quotient.

Alan has also segued into print, writing essays for the popular men's lifestyle magazine "Razor." His first contribution, entitled "Save The Lap Dance For Me," was an amusing expose on the perils of visiting a strip club.

Spencer copiously researched the piece, showing journalistic integrity by spending countless hours interacting with strippers… even sneaking a hidden camera into a club.


He followed this by authoring the "Razor" February cover story: "Where Have All The Real Men Gone?" This dissertation chronicled the emasculation of macho men on the small screen, summarily replaced by female action heroes in the ultimate "role reversal."

The article ended with Spencer, attempting to reclaim the manhood of modern men, seeking an old fashioned bar fight… with unexpected results.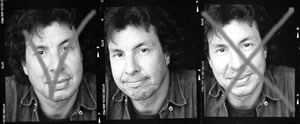 On the personal front, Alan is a supporter of charitable organizations such as Unicef and the Los Angeles Mission.

He's also been known to throw outlandish parties… with guest lists that include everyone from dancing girls to card-carrying members of the "Planet of the Apes."


Alan continues to keep his personal promise to Marty and Andy.







At present, Alan Spencer is in talks to turn "Sledge Hammer!" into a feature film.