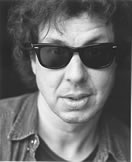 Visit Alan Spencer's MySpace site.
Alan Spencer is a writer, producer, director and occasional on camera personality living in Hollywood, California.
Spencer's first foray into show business occurred in the seventh grade: appearing as a contestant on Chuck Barris' infamous "Gong Show" doing an impression of Maxwell Smart singing "Let It Be" into a shoe.
Receiving an enthusiastic response (and avoiding the gong), Spencer soon began performing standup comedy at local nightclubs… eventually graduating to L.A.'s renowned "Comedy Store."

Too young to drive, Spencer's transportation was an RTD bus.
He continued riding to other noteworthy destinations…
Instead of heading home after his high school classes… Spencer took the bus over to Twentieth Century Fox studios where his hero, Mel Brooks, was directing the milestone comedy "Young Frankenstein."

Sneaking onto the lot, Spencer watched Brooks guide a legendary ensemble
of players to heights of absurd grandeur.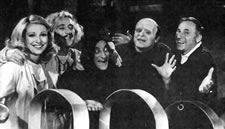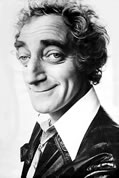 While on set, British comedian Marty Feldman noticed Spencer from the corner of his skewed eye… sensing the teen was a trespasser.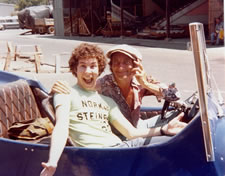 Feldman, a puckish spirit with an appreciation for mischief, befriended Spencer… allowing him to return on a regular basis as his personal guest.
Feldman also imparted shrewd advice, encouraging Alan to write… wherein he would be judged not by his age, but by the page.

Aware that Woody Allen had sold jokes to newspaper columns while still a teen, Spencer used the same approach.
Soon, Alan was selling material to top comedians through the mail who were unaware the author was just a "kid." (Years later, Spencer met Rodney Dangerfield and informed the comic he'd sold him jokes at age fifteen. Dangerfield replied: "I remember those jokes. They looked like they were written by a fifteen year old.")
After creating a syndicated radio show and having a humor piece published in National Lampoon, Spencer's confidence was bolstered enough to try breaking into television.
Defying the odds, Spencer sold a story to the sitcom "One Day At A Time" while still in high school, earning him the distinction of becoming the youngest member of the Writer's Guild of America.

Subsequently, Paramount Television signed the adolescent Spencer to his first writing contract. During this, he worked on such series as "Mork & Mindy" and "Working Stiffs" starring Michael Keaton.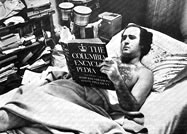 Concurrently, off-the-wall comedian Andy Kaufman was portraying Latka Gravas in the sitcom "Taxi" at the same studio.

Kaufman and Spencer struck up a fast friendship.

Andy's eccentricities had a profound effect on the impressionable Spencer, like the time Kaufman had Alan sit through a ninety-six hour marathon of "People's Court" episodes.

Andy also coaxed Alan to think outside the confines of traditional sitcoms.

Subsequently, Spencer began writing experimental theater pieces for playwright Oliver Hailey's workshop at the Mark Taper Forum, as well as warped screenplays that mined a more "twisted" sense of humor.

The untimely deaths of both Marty Feldman and Andy Kaufman left Alan devastated.

After penning a particularly insipid episode of "The Facts of Life," Spencer vowed to honor both men's memory and only write abnormal, or "Abby Normal," comedy.

While trying to peddle his odd screenplays, Alan sustained himself by writing standup material for such noted comedians as Garry Shandling and Michael Richards.

Finally, one of Spencer's scripts drew favorable attention: a deranged satire of vigilante cop thrillers called "Sledge Hammer!"