Click images below to purchase DVD from Amazon.com.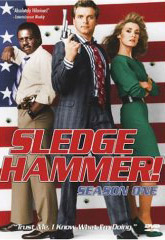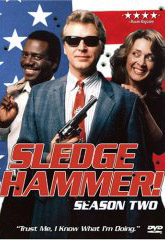 OR, you could buy them together HERE!



Now you can order
on DVD.
(click to enlarge)
Here are a couple of links from some well-known online stores. First up, Amazon:
The cool thing about Amazon is that customers have begun posting glowing reviews, despite the fact they haven't seen the discs yet.
The un-cool thing is the page claims the star of
is Linda McGill! (Hopefully this will be corrected soon.)

A company called DVD Empire has got the stars properly aligned… as well as named. They were the very first vendor to offer a pre-order.

By the way, there's apparently a porno star named "Sledge Hammer" so if you see any DVDs for sale that are rated X… then you've got the wrong show. While we love sex, we prefer VIOLENCE a whole lot more.

All right, with a nod to Ryan Seacrest: "Hammer… out!"

Below is the story of how the DVDs came to fruition thanks to the hard work of Alan Spencer and Anchor Bay Entertainment. Enjoy:



I figured it was about time that all you amigos (and amigas) get an update on how the Sledge Hammer! DVDs are coming along. They're due to hit retail shelves in the good ol' U.S. of A on July 27th and this is an exclusive first peek at the box cover: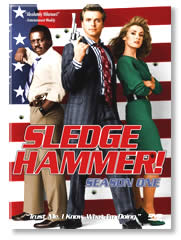 (click to enlarge)


This has been my maiden journey into the world of DVD. Being a DVD virgin, I'm lucky it was Anchor Bay Entertainment who deflowered me. They were very gentle and remembered to hold me afterward.


(click to enlarge)


Crest National Video is where all the digital restoration was done. This facility is very high tech… meaning they have some of the best coffee and croissants I've ever encountered. Everyone who works there is a pleasure… and that's no joke.

Here I am in the studio recording DVD commentary for one of the Sledge episodes.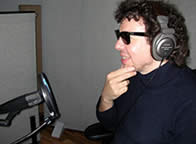 (click to enlarge)


I enjoyed it so much that I plan to record commentary on other TV shows and movies that I had nothing to do with. Next up, "Ben-Hur" & "She's The Sheriff."

As everybody knows, my contempt for the laugh track on Sledge Hammer! has become the stuff of folklore. It causes me convulsions to this day whenever I hear it.

The painstaking job of literally removing each and every terrible canned laugh has fallen into the hands of one incredibly talented man: George Bours.


(click to enlarge)


George is a very patient and conscientious fellow. His work on the Sledge Hammer! DVDs has been nothing less than miraculous.

I'm deeply indebted to George… but plan to pay him back for all the change he's loaned me so I could use the vending machines.

Recently, I sat down and watched an original documentary that's included on Sledge Hammer: Season One. It's called "Go Ahead, Make Me Laugh" and was written, produced and directed by a very gifted filmmaker named Perry Martin.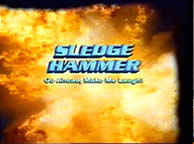 (click to enlarge)


Perry, along with R.J. Gallentine and Jay Marks, has done a terrific job pulling this documentary together. It features all new interviews with myself, David Rasche, Anne-Marie Martin and Harrison Page. We had no choice but to give good interviews because, as you can see, we all had guns to our heads!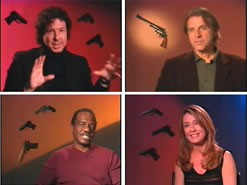 (click to enlarge)
Also, there's some interest in putting out a

soundtrack CD to tie in with the DVD release. Personally, I hope we can make that happen… because I'd love to call it "Music To Blow Up Buildings By."
Your amigo,
Alan Spencer