Click images below to purchase DVD from Amazon.com.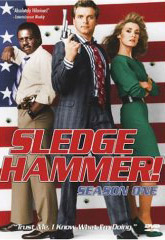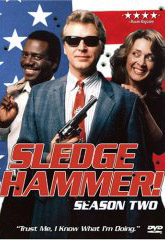 OR, you could buy them together HERE!




Thanks to your loyalty, passion and insanity… we are right now preparing

for release on DVD in the US of A.

I'm proud to be associated with Anchor Bay Entertainment in this endeavor, the wonderful folks who put out wholesome family entertainments like "Thomas The Tank Engine" & "Dawn of the Dead."

The street date for Sledge and his trusty sidearm to arrive on DVD is July 27th in the year of Our Lord 2004. The boxed set will be the closest thing to ever finding a weapon of mass destruction.

Time is running out with a lot, and I mean A LOT to do.

Thankfully, I've made some new friends who are toiling around the clock on this massive undertaking.

Here's a shot of a talented guy named Michael De Fusco, the "Director of Video Restorations," using digital magic to make

look as fresh as early morning gunpowder.

(click on image to see enlarged view)


Next are a couple of my new amigos, Perry Martin & R.J. Gallentine, prepping for an on camera interview with yours truly to be included on the disc… and you'll notice there's a gun mysteriously floating in the air!
Besides making new compadres, I've renewed old acquaintances with some people I haven't seen since we wrapped the show over a decade ago.

How time flies when you're having gun. Here I am being reunited with none other than Dori Doreau herself… the ever-lovely Anne-Marie Martin.


All three

cast members have completed interviews for an exclusive documentary to be included on the DVD.

Besides Ms. Martin, the ever explosive Captain Trunk, Harrison Page, sat down and yelled… I mean, spoke… about his involvement with the show.

And yes, Inspector Sledge Hammer himself, David Rasche took a break from the David Mamet play he's currently starring in to fly in and give a lengthy, as well as memorable, interview. (Those who witnessed it were reportedly thrilled when David slipped into character a few times. All right, enough anticipation.)

I promise to keep you updated as much as I possibly can. Also, keep signing the petition as a show of support for this effort. It's made a big a difference and continues to. I'll fill you in on the details as to how later:


I've got to hurry up and beat a case of laryngitis so I can record my commentary on some key episodes.

After that, thanks to my fine comrades in the U.K. and Scotland providing ample materials, I'll be riding shotgun alongside a diligent sound engineer as we attempt to accomplish the most important task at hand.

It's a dangerous mission, so pray we succeed as we…

ATTEMPT TO REMOVE THE LAUGH TRACK!!!